English - KS3
The Key Stage 3 Curriculum in English is a robust and refreshed scheme of learning over years 7 and 8. Developed in conjunction with our Key Stage 4 GCSE programme, Key Stage 3 reflects the knowledge, skills and abilities required to be successful at GCSE standard. This reflective approach ensures all students are well-prepared, confident individuals, ready to take on the challenges of GCSE.
In English, students are taught in classes of similar ability, selected according to target and prior performance. Schemes of work in English are varied and engaging, focused around the three main components of English study (Reading, Writing, Spelling and Grammar). Every topic studied is developed in detail, with opportunities for students to continually enhance their learning in these components. As well as this, all topics include a speaking and listening element to improve students' oracy skills.
Assessment in English is a combination of strategies. Ongoing formative assessment through classwork, discussions, reflection time and homework booklets ensure students are consistently aware of their learning path. At the end of each topic, pupils are assessed summatively on the knowledge and skills they have studied in order to consolidate or extend learning concepts.
Key Stage 3 Year Plan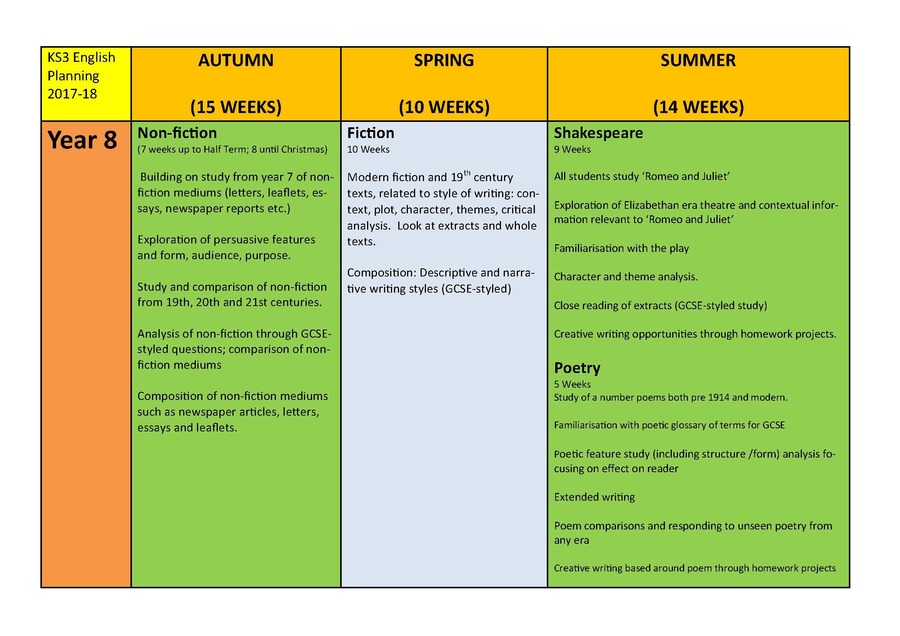 Good luck and enjoy your English lessons