English - KS4
Year 10 2017/2018
Year 10 will be sitting their GCSE English Literature test in the May of 2018. They will be sitting this test a year earlier than normal to maximise their results for GCSE English Language in Year 11.
They will be sitting the exam for the AQA board.
The following link will provide further reference.
http://www.aqa.org.uk/subjects/english
In Year 10 pupils will be studying the new English Language specification from AQA. Over the next year they will be studying a range of 19th, 20th and 21st century texts. This will include literature and literary non-fiction to extend and challenge their understanding. Critical reading skills will be embedded in to their studies so that every pupil will be able to evaluate texts critically and independently. Each pupil will also be taught how to write effectively and coherently using standard English.
The following table shows the coverage of the English Literature course for AQA.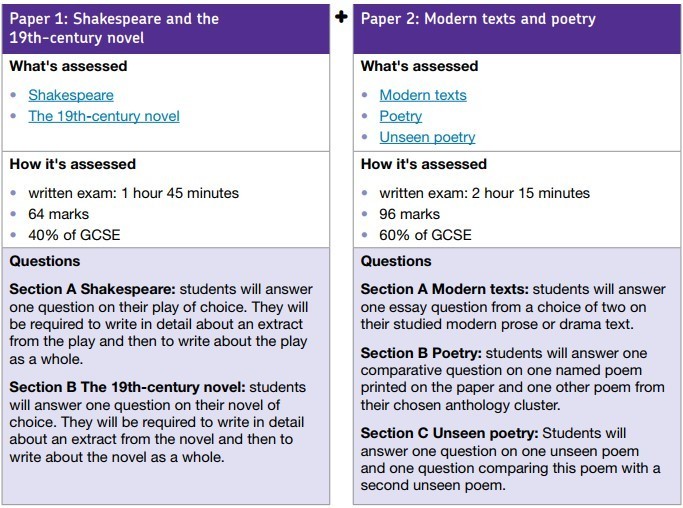 As well covering the core requirements of the course there is constant assessment planned during the year for precise feedback for both parents and pupils.
To prepare for their end of year exam the English department will offer extra tuition on a dedicated night after school. We will also offer extra lessons during half terms and Easter leading up to the exam.
Studying this course in Year 10 will enhance and compliment their studies in Year 11 for GCSE English Language.
Year 11 2017/2018
In September 2017 Year 11 will start the new year having studied halfway through their GCSE English Literature and GCSE English Language course.
They also will be following the AQA board.
The specification offers the attraction of two equally-balanced papers, relating reading sources to the topic and theme of writing tasks. The reading sources act as stimulus for writing tasks, providing students with a clear route through each paper. Each paper has a distinct identity to better support high quality provision and engaging teaching and learning. Paper 1, Explorations in Creative Reading and Writing, looks at how writers use narrative and descriptive techniques to engage the interest of readers. Paper 2, Writers' Viewpoints and Perspectives, looks at how different writers present a similar topic over time.
The following table shows the coverage for the English Language course.
Pupils will be offered extra tuition throughout the year to thoroughly prepare them for the two exams at the end of Year 11.